2021 – 4 Day Junior Golf Academies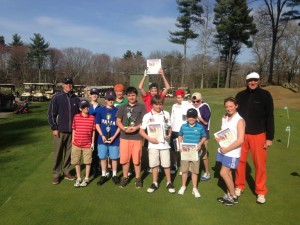 4 DAY JR GOLF ACADEMY:
Program is targeted at serious Jr Golfers of all ability levels between the ages of 9-16. Program runs Monday-Thursday (Rain day Friday) from 11 AM to 4 PM. Lunch will be provided daily at the Maplegate Golf School located in a separate location near our Driving Range.
Program will cover rules and etiquette along with the pre shot routine, full swing, short game and equipment selection. Time will be shared between the practice area and the Golf course always under the supervision of a Maplegate Staff member. Program includes the latest V1 video analysis, daily on course competition with prizes, use of practice facilities, range balls,  equipment and Lunch Daily.
Also Includes:
– 20 hrs of instruction including playing & video lessons.
-Max of 8:1 Student/Teacher Ratio.
-Personalized Golf Lesson Booklet including: Swing Tips, Rules of Golf, Personal Swing Analysis, more.
-45 Holes of Golf including on course fun based tournament.



Academy Options for 2021 Season

4 Day Jr. Golf Academy
                                  Monday-Thursday    11AM-4PM     $375 per session
     April 19th- 22nd
     June 21st- 24th
     June 28th- July 1st
     July 19th- 23rd
     July 26th- 30th
     August 9th- 13th
     August 16th- 20th
     August 23rd- 27th


NOW OFFERING…
4 Day After School Program
                               Monday-Thursday     3PM-5PM     $190 per session
      May 10th- 14th 
      June 7th- 10th



Registration Coming Soon!